Reposted from a Soompi post I made
I have pretty dark brown eyes, and I wanted a circle lens that matches my eye color as much as possible without being black. I used the Freshcon black lens before and it looks a bit too doll-like for my liking. After searching around I found Hyper Size Platinum in Brown, which is the darkest brown lens among the ones being sold on the couple of sellers I found.
This is the official image:
And here is the bottle and the lens: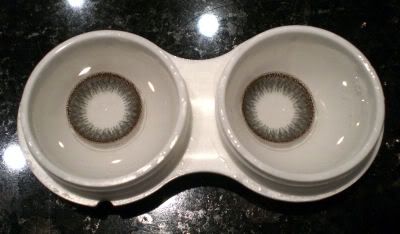 I wore one of the lens on my right eye (your left) and took pictures:
Comfort: 7/10
- I only wore them for a bit around the house for 5 minutes or so, but they are a bit thicker than my Geo Angels or Nudys. Hope that after I soak them properly they will soften a bit.
Enlargement: 10/10
- These things are big, I measured them against Geo Nudys and they are a wee bit bigger!
Design: 10/10
- As you can see from the pics of my eyes, they are extremely natural looking on me, even with direct in-my-face flash. I like the soft brown limbal ring, and the radial black "spikes" gives good depth. My mom can barely tell that I am wearing the lens when I showed her.
OVERALL: 9/10
- This is the perfect lens for those with darker eyes who are looking for a natural-looking lens.