I got these lens because I wanted something that would look hauntingly green for cosplay. Sadly, I am quite disappointed with them. :\
Here is the ad for the lens.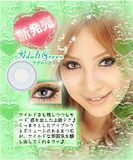 And here is the bottle and the lens in the case: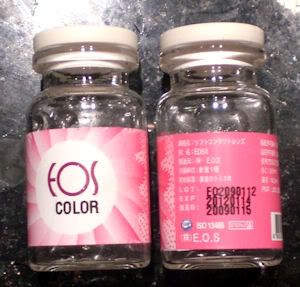 The lens are actually a bit greener in person (but not much), a sort of aqua-ish blue.
These pics are taken with indoor halogen lights:

I think they look kind of ugly on me, and don't enlarge that much, but that's expected from such a light-colored lens. The pattern is kind of weird looking too.
Overall I am quite disappointed with these lens, as they are nowhere as green as I wanted them. I think these are my least favorite lens among the ones I have
Final scores -
Design: 4/10
- Ugly, and color is off
Comfort: 8/10
- I only wore them for about 5 minutes but they are OK.
Enlargement: 3/10
- Almost non-existant
OVERALL: 5/10
- I just don't like them