This tutorial is originally posted in my LiveJournal for my fellow cosplayers, but I figure that it will also be interest for non-cosplayers that plan to wear unusually colored wigs. In fact, this is just a slightly heavier version of how I do my makeup usually.
The makeup here is in a gender-neutral style, meaning that it will suit most female characters except the very cute and very glamorous, and most non-macho (aka bishounen-type) male character crossplays. Guys can wear this makeup too, but go a bit easier on the eyeshadow.
Anyway, let's get started!
Here I am demostrating two common mistakes among "casual" cosplayer: slapping the wig on right out of the package, and not wearing any makeup. Most wigs will be flat and look awful after being tightly packaged in a ziplock bag, and without some makeup you will look washed out under most Anime-colored wigs.
(Dear god I look like an old woman here)
Alright, take off that silly flat wig and set it aside for now. Wash your face and put on moisturizer. Wait for it to completely absorb before putting on your makeup, or it will be streaky and melt straight off.
(Sup Lazyeye-chan)
I usually put on my contacts before starting my makeup, as they can help me see what I am doing. You may want to put them in at the very end if you have sensitive eyes. By the way, my contacts are GnG BT01 circle lens in purple:
Put on foundation (and powder if you are using the liquid type) on your face and blend down onto your neck to even out your skintone as well as provide a base for all the crap that is coming up next. Here I am using Everyday Minerals foundation in Sunkissed Fair Intensive, applied with a powder brush.
EDIT: As suggested by
huiwei
, unless your character is tan, you might want to use a foundation one shade lighter than your normal skintone if you are wearing a blonde/silver/white wig, as I should have done here. :p
Matching your eyebrows to your wig is important, especially if your brows are brown but your wig is neon green or something. Usually you can use eyeshadow to draw in your brows, but if your brows are really really thick you might need to use colored mascara or some other technique. If you are really hardcore you can shave your own brows off and draw them back on, but I am not THAT crazy. XD I used silver eyeshadow here instead of white because I don't have any.
A simple way to wear eyeshadow is to simply put one dark color in your crease and a lighter color on your browbone. If your character has relatively natural hair color (blondes, brunettes etc) dark brown and ivory works well; for most neon colors, as well as white and black, grey and silver or white is quite good. I will go more in-depth regarding eyeshadow when I have time.
Put on eyeliner after eyeshadow so your eyes can "pop". Black works well, but if you want a softer effect brown is good too. I usually wear it on my upper lashline and along the outer 1/4 of my lower lashline, joining them at the outer corner' this gives a wide-eyed look that applies well to non-evil characters. I also put a bit of silver eyeshadow in the inner corners of my eyes which makes them brighter.
Two coats of black thickening mascara finished the eye makeup. You can use false eyelashes for a more glamorous look, but remember to use mascara to blend in your lashes with the falsies!
A pinkish blush is good for most hair color except anything orange-ish or yellow (use a peach tone blush with a bit of orange in it instead). Put it on a little at a time, and stop right when you can see it clearly when squinting. Unless you are going onstage, too much blush would make your face look like a baboon's butt.
(Behold my fail-tastic attempt at being cute =____=)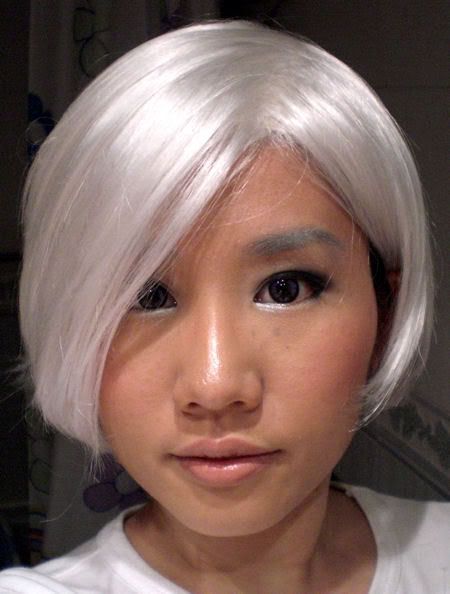 Finally, put on your lipstick or lipgloss
after your wig and costume
to prevent the wig smearing it all over the place. In fact, you should put on your costume, put an old buttondown shirt or towel over it, then do your makeup to minimize smearing. By the way, I combed out and styled my wig a bit so it is not as flat and has a clearer part; I am also wearing a nude lipstick (MAC Blankety).
And there you have it, a mini tutorial on doing cosplay makeup! To be honest this is just my clubbing makeup so it is a little bit heavy, but it works for most cosplays. Thanks for reading! :D